Netrunner Rolling 2018.08 released with seamless Gtk Integration
---
---
The Netrunner team has announced the availability of Netrunner 2018.08, the latest stable release of Arch-based rolling GNU/Linux distribution. This release includes multiple improvements including the Plasma 5.13.3 and other components. It also provides a nice integration with Gtk based applications.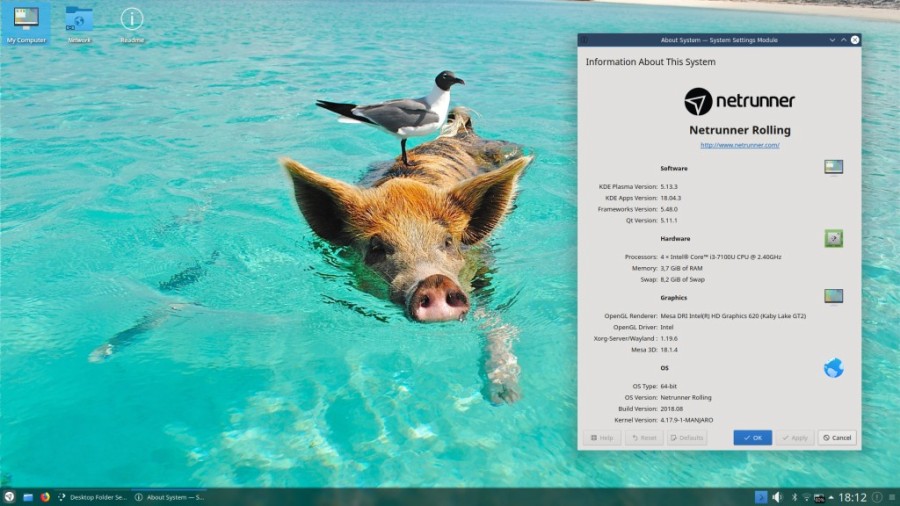 A preview of Netrunner Rolling 2018.08
Unlike the Netrunner Core edition, Netrunner Rolling is a GNU/Linux distribution based on Arch and Manjaro flavors. It provides a decent Plasma experience with continuous updates from the upstream projects.
The main highlights in Netrunner Rolling 2018.08 release can be summarized as follows,
Updated applications including KDE Plasma 5.13.3, KDE Frameworks 5.48, KDE Applications 18.04, Qt 5.11.1, Linux Kernel 4.17, Firefox Quantum 61.0, Thunderbird 52.5 and more.
Gtk Apps now makes use of Kwin borders to provide a better integration with the rest of the ecosystem.
Krita 4.1.1 which has got plenty of features compared to the previous release.
Using the new sidebar Layout, all the revamped UI-related KCM modules into one section called "Plasma Tweaks" for easy configuring Plasma Desktop.
This release also comes with some new Plasma Theme that has some transparency built in to allow for experimenting with the new Blur options.
For the original release announcement of Netrunner Rolling 2018.08 and download links, proceed to Netrunner Website.