MX-19 BETA 2.1 released with Xfce 4.14
---
---
The MX team has announced the public availability of MX-19 BETA 2.1, a development release before upcoming MX-19 stable release. This release includes latest updates from Debian Buster, antiX repositories and MX repositories.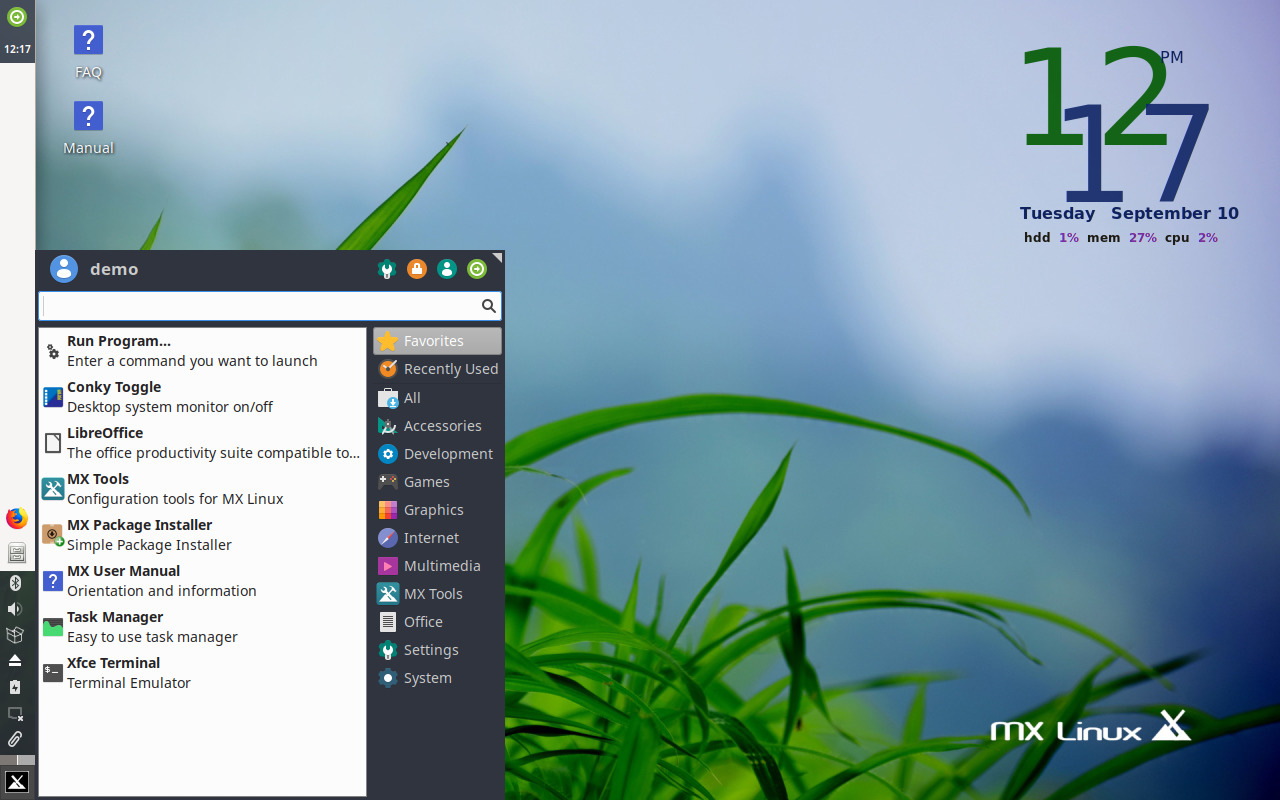 MX-19 BETA 2.1 Application Menu
The main highlight of MX-19 BETA 2.1 is Xfce 4.14, the latest stable release of MX's flagship desktop environment. MX might be the first Debian derivative to ship Xfce 4.14.
What else in MX-19 BETA 2.1?
As mentioned earlier, the main highlight of MX-19 BETA 2.1 would the availability of the Xfce 4.14. It also includes other packages from upstream projects. A brief list is provided below.
Xfce 4.14
GIMP 2.10.12
MESA 18.3.6
Linux Kernel 4.19 from Debian
Firefox 69
VLC 3.0.8
Clementine 1.3.1
Thunderbird 60.8.0
LibreOffice 6.1.5
In addition to package updates, MX-19 BETA 2.1 also has the following changes.
New and updated MX-apps
MX-installer (based on gazelle-installer) fixes some automount related issues.
MX Date & Time utility makes clock setting easier.
formatusb tool for formatting USB storage devices
MX-packageinstaller is now capable of showing version number for flatpak applications.
MX-updater no more require the password to check updates.
improved wallpaper & artworks.
better translations.
For further information on MX-19 BETA 2.1 release, see the official release announcement.
The following section showcases some screens captured in MX-19 BETA 2.1
---
---
01 MX Welcome
02 MX Desktop - First impression
03 Application Menu
04 Thunar File Manager
05 Midnight Commander FM
06 Xfce Terminal
07 Multitasking Overview
08 Firefox browser
09 VLC Media Player
10 Clementine Music Player
11 Loading GIMP 2.10
12 GIMP Editor
13 MX Documentation
14 Featherpad Editor
15 nomacs image viewer
16 Xfce Settings
17 MX Tools
18 MX Package Installer
19 MX Package Installer - Flatpak
20 Xfce4 Screen Saver
21 MX Date and Time
22 MX Tweak
23 MX Conky
24 Desktop Settings
25 Synaptic package manager
26 htop utility
27 Task Manager
28 Shutdown confirmation
Video Preview