Long-awaited Elive 3.7.14 is on the way, the BETA release is available now
---
---
Breaking the silence, the Elive team has announced the availability of Elive 3.7.14 BETA. This development snapshot includes updated packages from the Debian 10.x Buster series.
Elive 3.7.14 BETA is coming with a handful of improvements ranging from under the hood performance optimizations to visual enhancements.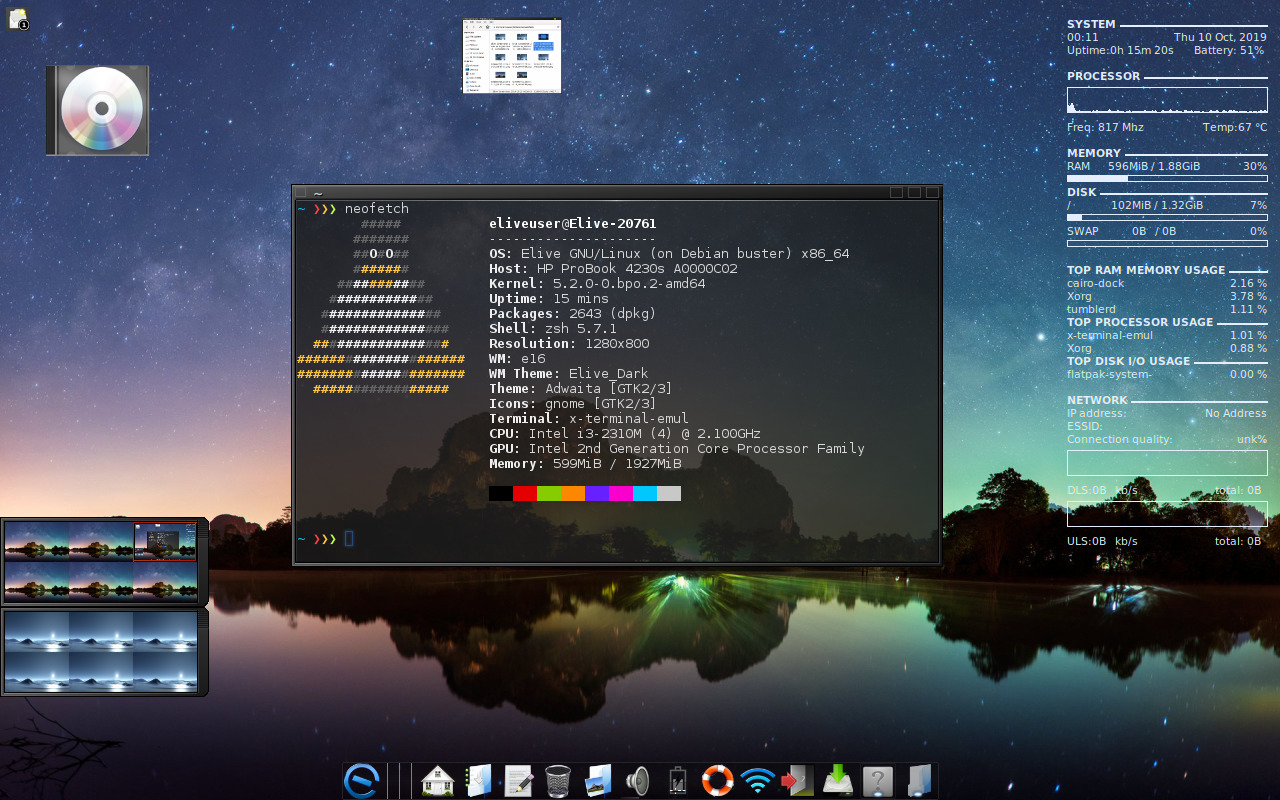 Citing from the release announcement, the important highlights in Elive 3.7.14 BETA release are briefed below.
Based on the Debian 10.x Buster branch. Linux Kernel 5.2.9 and many other updated packages are available in this release.
Enable support for UEFI, Secure boot and NVMe (Non-Volatile Memory Express) disks.
The dedicated dock bar includes multiple features.
Includes an embedded audio player on the desktop with cover picture and control options.
Stability & performance improvements
The current desktop is temporarily based on Enlighten 16.
Customized desktop theme with dark shade. A light shaded theme is planned for upcoming releases.
GNOME Software is provided as the default package manager, still, power users can continue to use apt.
Power-saving features are enabled by default.
Built-in support for NVIDIA drivers.
Improved & robust system installer
It offers a smooth migration path from the previous 32 BIT installations.
Better compatibility with other GNU/Linux & BSD distributions and Microsoft Windows. (Well, seems like Samuel don't want to yell their name ;) )
You may also read the Elive 3.7.14 official release announcement in the project's website.
Elive Linux 3.7.14 BETA screenshots
---
---
01 Elive Desktop
02 Application Menu
03 Context Menu
04 Thunar File Manager
05 Terminology - Terminal Emulator
06 Chromium Browser
07.00 Busy Desktop
07.01 alt plus tab switch
08 MPlayer
09 GNOME MPV
10 Embedded music player on desktop
11 Elinks - Command line browser
12 SciTE Text Editor
13 Play On Linux
14 LibreOffice
15 Resouce monitor
16 GNOME Software
17 Shortcut Menu
18 Leave Options
19 Shutdown confirmations