NomadBSD 131R-20221130 released
---
---
On 4th December 2022, the NomadBSD team announced the release of Nomad BSD 131R-20221130. Nomad BSD is a FreeBSD-based live distribution, with automatic hardware detection and installation scripts.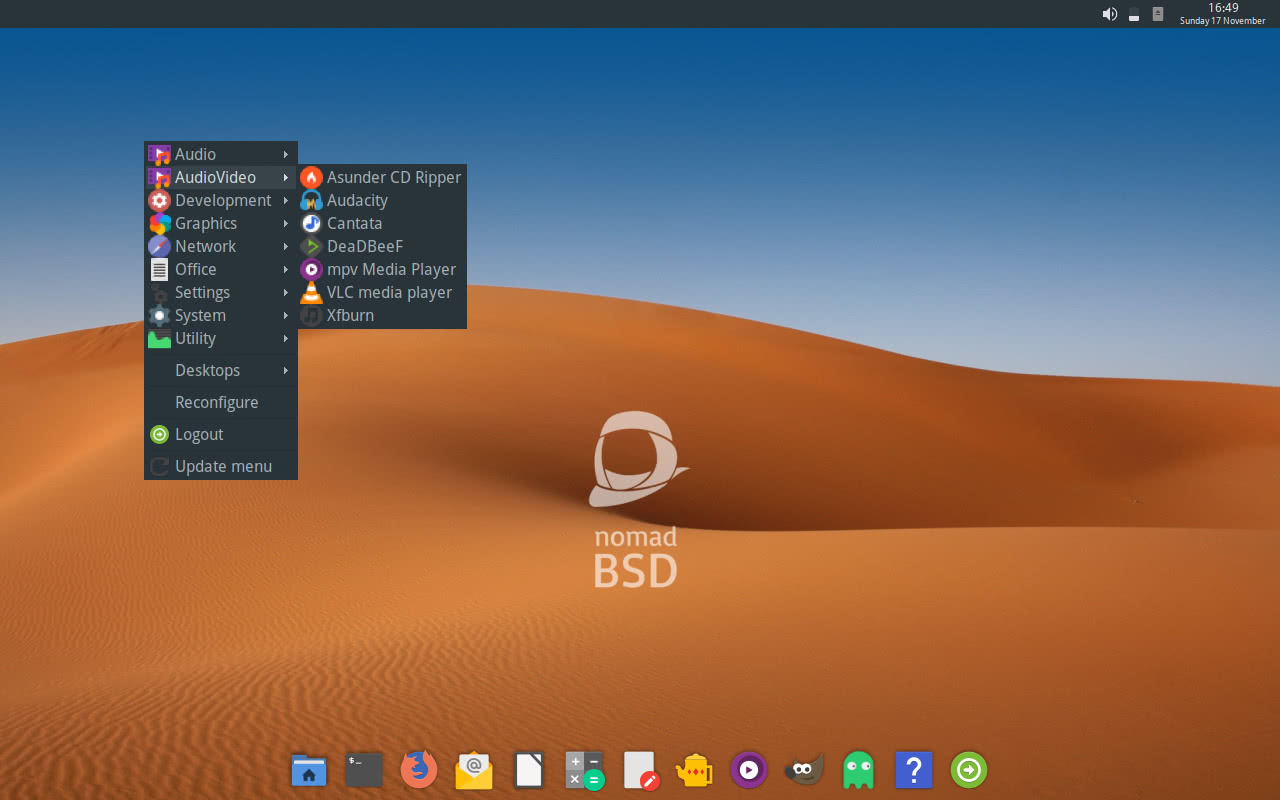 The Nomad BSD 131R-20221130 is coming almost 18 months after the previous release and is the second release after switching to a new version number scheme. In addition to the core BSD system updates, NomadBSD brings several improvements including an update tool.
The main highlights in NomadBSD 131R-20221130 release are as follows:
The base system has been changed to FreeBSD 13.1-RELEASE-p5.
The file systems used on the UFS version are now created with soft updates journaling enabled to reduce file system repair problems after a crash.
The automatic graphics driver detection has been improved.
For better support of non-latin keyboard input and switching between layouts, IBus is now used.
The rc script for loading acpi modules has been improved.
SDDM replaces SLiM as the default display manager
To reduce installation image sizes, LibreOffice and some multimedia packages have been removed.
The kernel has been built with a patch that prevents some laptops from hanging when the hwpstate_intel driver is loaded. See: https://cgit.freebsd.org/src/commit/?id=67f2a563bfcad75c16536ca500b06ddc9306dfa0
Turkish localization and support for Opera and Microsoft Edge have been added to the Linux browser installer GUI.
Introduces an experimental nomadbsd-update tool to update components of the NomadBSD system.
Download Nomad BSD 131R-20221130
For more reading, see the official NomadBSd 131R-20221130 release announcement published on the project's website.
NomadBSD 130R-20210508 screenshots
---
---
01 title clip
02 application menu
03 thunar
04 midnight commander
05 firefox
06 terminal
07 mpv
08 vlc
09 deadbeaf music player
10 image viewer
11 geany
12 libreoffice writer
13 htop resource usage
14 shutdown confirmation
Video Preview


For more videos, subscribe our channel DistroScreens on YouTube.