Kubuntu 19.10 Eoan Ermine released with Plasma 5.16, see screenshots
---
---
The Kubuntu team has released Kubuntu 19.10 Eoan Ermine, a regular release of Kubuntu. In addition to all improvements from the Ubuntu Eoan branch, Kubuntu brings KDE Plasma 5.16. It provides a smoother and better user experience with the advancement in open source technologies.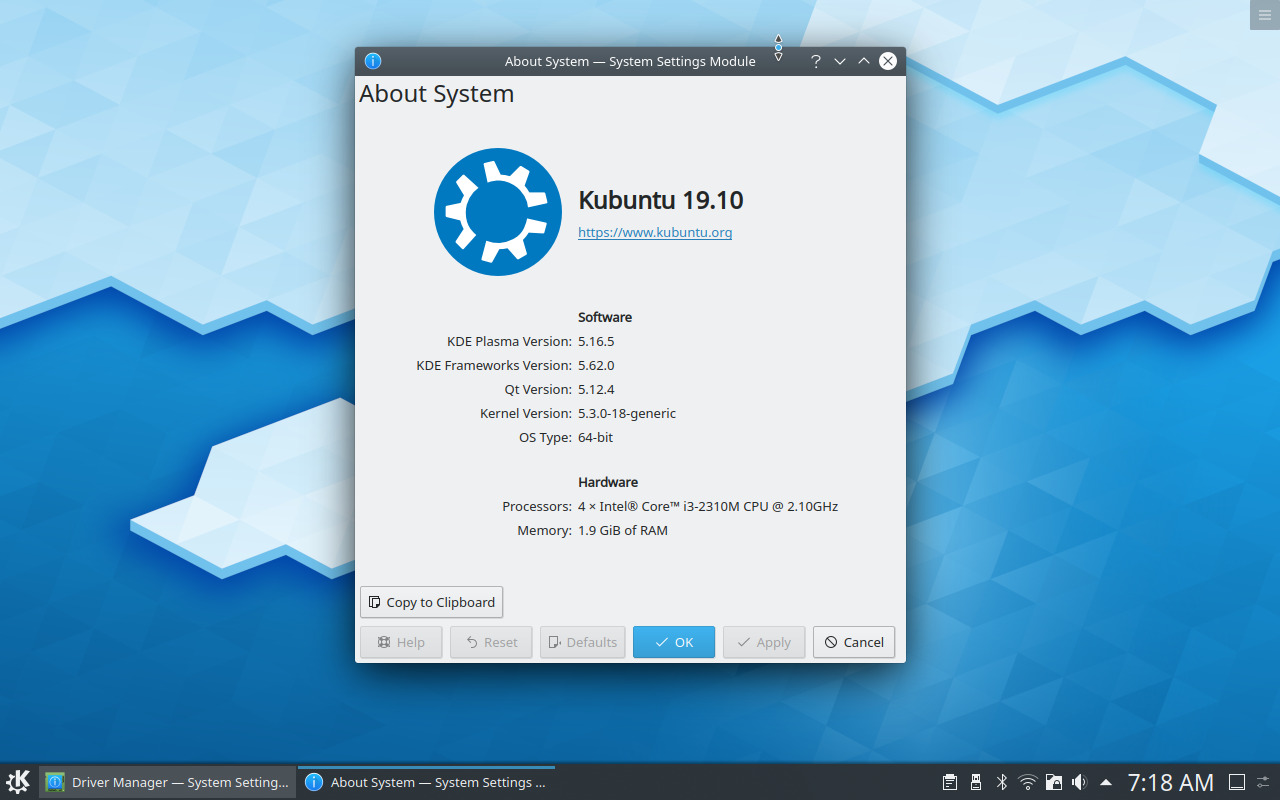 Kubuntu 19.10 as a regular release in the Ubuntu family, will be having a support period of 9 months. After this, users should upgrade to a later release to avail of continued support.
Citing from Kubuntu 19.10 Eoan Ermine release announcement,
Under the hood, there have been updates to many core packages, including a new 5.3-based kernel, Qt 5.12.4, KDE Frameworks 5.62.0, Plasma 5.16.5 and KDE Applications 19.04.3. Firefox 69 is the default browser and LibreOffice 6.3 is provided by default in the full installation, along with updates and bugfixes to latte-dock, Elisa 0.4.2, Kdenlive, Yakuake, Krita, Kdevelop and Ktorrent.
Download Kubuntu 19.10 Eoan Ermine (Dead Link)
Kubuntu 19.10 Eoan Ermine screenshots
---
---
01 Kubuntu Eoan Desktop
02 About Kubuntu Eoan
03 Application Menu
04 Dolphin File Manager
05 Konsole - Terminal Emulator
06 Firefox Browser
07 Busy Desktop
08 Window swtiching using alt and tab
09 VLC Media Player
10 Cantata Music Player
11 Gwenview Image Viewer
12 LibreOffice Writer
13 Kate Text Editor
14 New Driver manager in Kubuntu
15 Discover - home page with feature applications
16 Application listing in discover
17 Plasma Addons in discover
18 Muon package manager
19 System Settings
20 Customizing look and feel
21 Background Selection
22 Resouce usage on idle state
23 Resource usage with htop
24 Music Widget on Plasma panel
25 Calendar Widget
26 Customizing panel
27 System leave menu
28 Shutdown confirmation
Video Preview


For more videos, subscribe our channel DistroScreens on YouTube.