New updates are available for Amarok 3.1
---
---
The Amarok GNU/Linux team has released a set of updates for Amarok 3.1, a point release of Debian Testing based GNU/Linux distribution with Xfce Desktop. The Changes in the update set are suitable for a news release, but the team provides them as updates.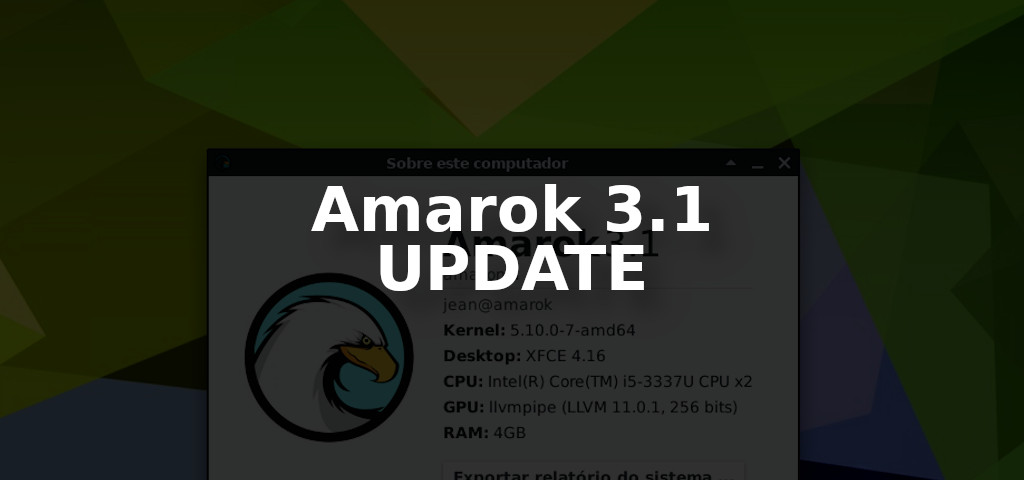 What's new in Amarok 3.1 latest updates?
Following are the main updates included for the Amarok 3.1 release.
Replaced GNOME Software with Amarok Install (fork of Mintinstall) for its convenience and ease of searching for applications within the system;
Introducing Language Settings application to be able to install language add-ons to the system or change the native language for one of your choice; Updated Base (base-files) for Debian 11;
Amarok Linux now has AmarokSystem. AmarokSystem is a basic Amarok system package used by the desktop and other Amarok tools to gather information on the system;
Redesigned The "About Amarok" application and now has the option to Export System Report;
And many other updates from Debian itself.
How to get the latest updates in Amarok 3.1?
For getting the latest updates in Amarok 3.1 release, the existing users can use the below commands in the terminal application.
sudo 

apt update


sudo 

apt dist-upgrade 

-yq




sudo 

apt auto-remove

Then run the below command to cleanup the system as in Amarok 3.1 update set.
sudo 

apt remove gnome-software gnome-software-plugin-flatpak software-properties-gtk 

--auto-remove



For further information, read the original blog post in Amarok blog.
Amarok 3.1 screenshots
Courtesy: Amarok Blog.
---
---
configuracoes-de-idioma
gerenciador-de-aplicativos
sobre
title-clip