Fedora 31 officially released, see screenshots
---
---
The Fedora team has announced the official release of Fedora 31. This release includes Fedora Workstation, Official spins, server edition, Fedora Core OS and Lab editions. All of these varieties showcases the power and caliber of the latest open source technologies.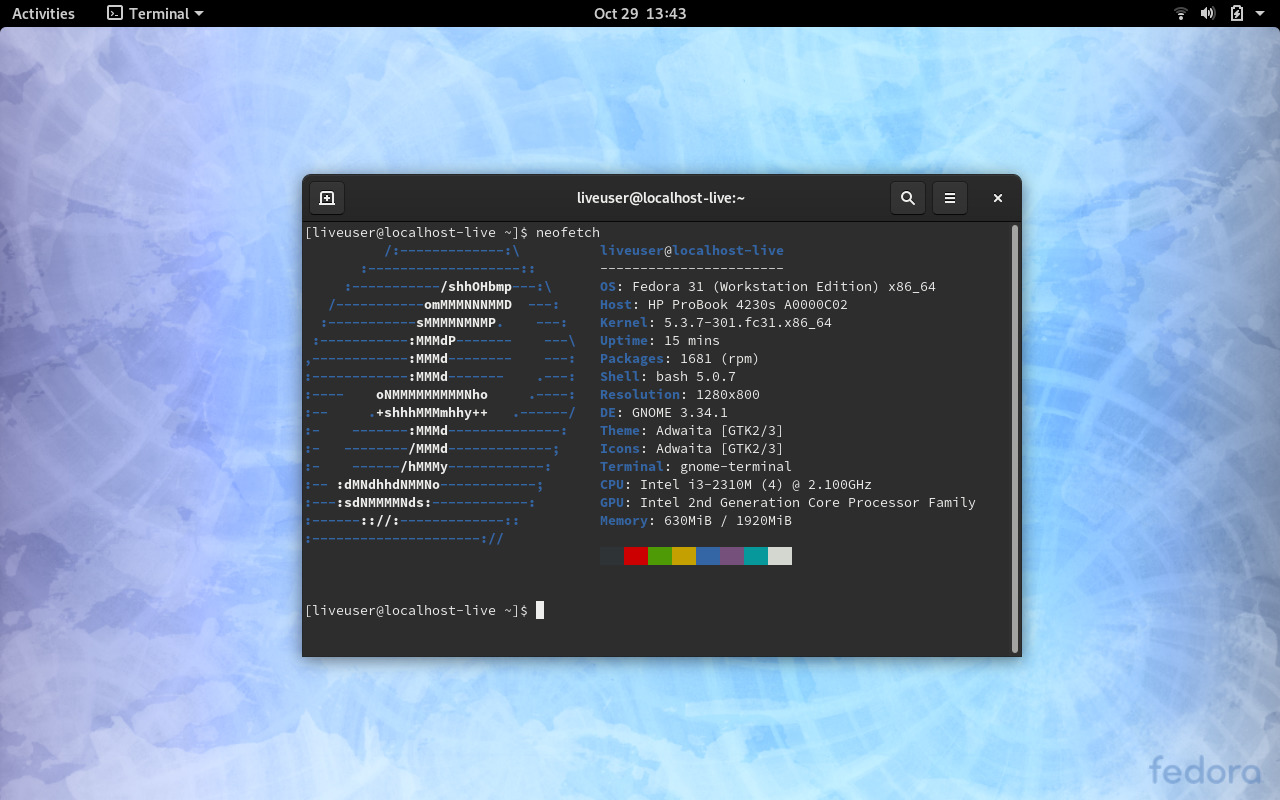 What's new in Fedora 31?
There are several noteworthy highlights in Fedora 31 release. Here we are briefing some of the handpicked updates.
GNOME 3.34
The Fedora 31 Workstation features GNOME 3.34 as the default desktop environment. It continues to provide a better and smoother user experience with the advent of modern technologies.
The visible changes in GNOME 3.34 include redesigned background and lock screen settings page, and the ability to create custom folders in the application menu.
Python means Python 3
As Python 2 is approaching its end of life, Fedora 31 has switched the python to point the Python 3. Python 3 will be the default across the operating system beginning from this release.
Latest technologies at the first
Fedora 31 brings the most recent updates from various libraries and development tools. This ensures that Fedora users are always leading the way not just following. Glibc 2.30 and NodeJS 12 are among the many updated packages in Fedora 31.
It is the end of i386 era
Finally, the Fedora project has decided to drop support for i386 architecture. Beginning from Fedora 31, there would not be any Fedora release that supports i386 hardware.
Fedora 31 Workstation screenshots
---
---
01 Fedora 31 Workstation Desktop
02 About Fedora 31
03 Application Menu
04 Multitasking Overview
05 Nautilus File Manager
06 GNOME Terminal
07 Firefox Browser
08 Busy Desktop
09 Window Switching
10 GNOME Videos
11 Rhythmbox Music Player
12 Eye of GNOME
13 Shotwell Image Viewer
14 LibreOffice Impress
15 GNOME Calendar
16 GNOME Weather
17 GNOME Maps
18 GNOME Control Center
19 GNOME Control Center - Background Selection
20 GNOME Software - Home
21 GNOME Software - Category
22 GNOME Software - Installed
23 GNOME Software updates
24 Resouce usage on idle state
25 Resouce usage with top
26 gEdit Text Editor
27 Calendar and notification widget
28 System Menu
29 Shutdown confirmation
Video Preview