Kali Linux 2020.2 released, see screenshots
---
---
The Kali Linux team has announced the release of Kali Linux 2020.2. This release includes redesigned Plasma Desktop, PowerShell and other improvements.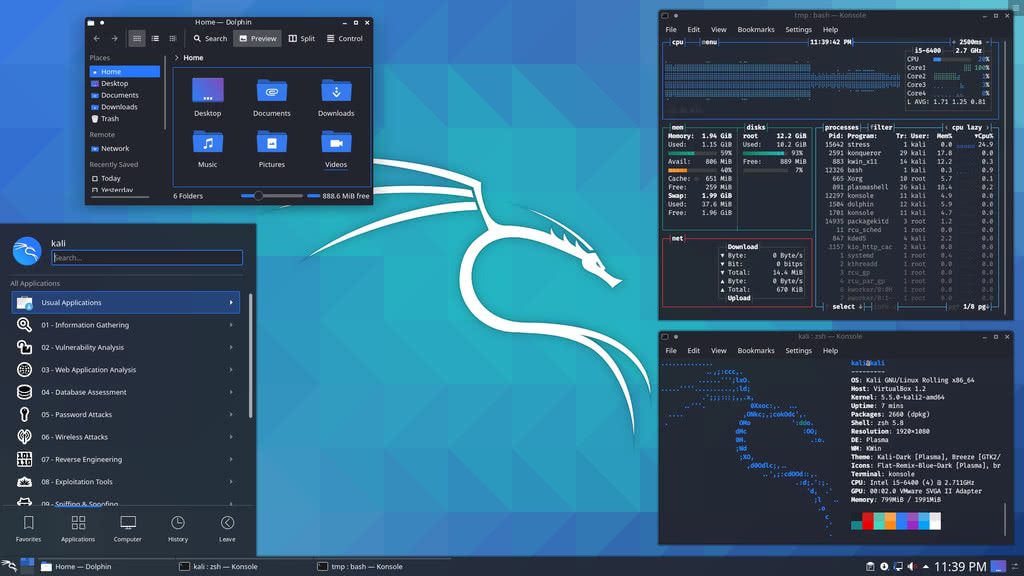 Plasma makeover & login screen improvement: After redesigning Xfce and GNOME shell, the Kali Linux team has focused on Plasma Desktop 2020.2 release. In this release, the Plasma Desktop is redesigned with Kali branded theme both dark & light flavor. The theming is also implemented on the login screen.
Powershell is included as a default package in the Kali Large meta-package. If you choose to install this package during system installation, Powershell will be available by default.
The Kali ARM image no more use root/toor as default login credentials. Also, the system requirement is raised to 16 GB from 8 GB.
Kali Linux 2020.2 also includes package updates including GNOME 3.36, Python 3.8, and more.
For more information on Kali Linux 2020.2, read the official release announcement.
Kali Linux 2020.2 screenshots
---
---
vlcsnap-2020-05-15-23h26m33s045
vlcsnap-2020-05-15-23h26m40s047
vlcsnap-2020-05-15-23h26m48s254
vlcsnap-2020-05-15-23h26m59s208
vlcsnap-2020-05-15-23h27m05s382
vlcsnap-2020-05-15-23h27m12s374
vlcsnap-2020-05-15-23h27m17s608
vlcsnap-2020-05-15-23h27m21s247
vlcsnap-2020-05-15-23h27m30s077
vlcsnap-2020-05-15-23h27m36s276
vlcsnap-2020-05-15-23h27m43s462
vlcsnap-2020-05-15-23h27m47s476
vlcsnap-2020-05-15-23h27m50s206
vlcsnap-2020-05-15-23h27m56s924
vlcsnap-2020-05-15-23h28m01s206
vlcsnap-2020-05-15-23h28m06s064
vlcsnap-2020-05-15-23h28m09s657
Video Preview