Lubuntu 19.10 Eoan Ermine screenshots
---
---
Lubuntu 19.10 Eoan Ermine is a stable release of Lubuntu. It provides a recent version of the LXQt Desktop along with all the core features from the Ubuntu Eoan foundation.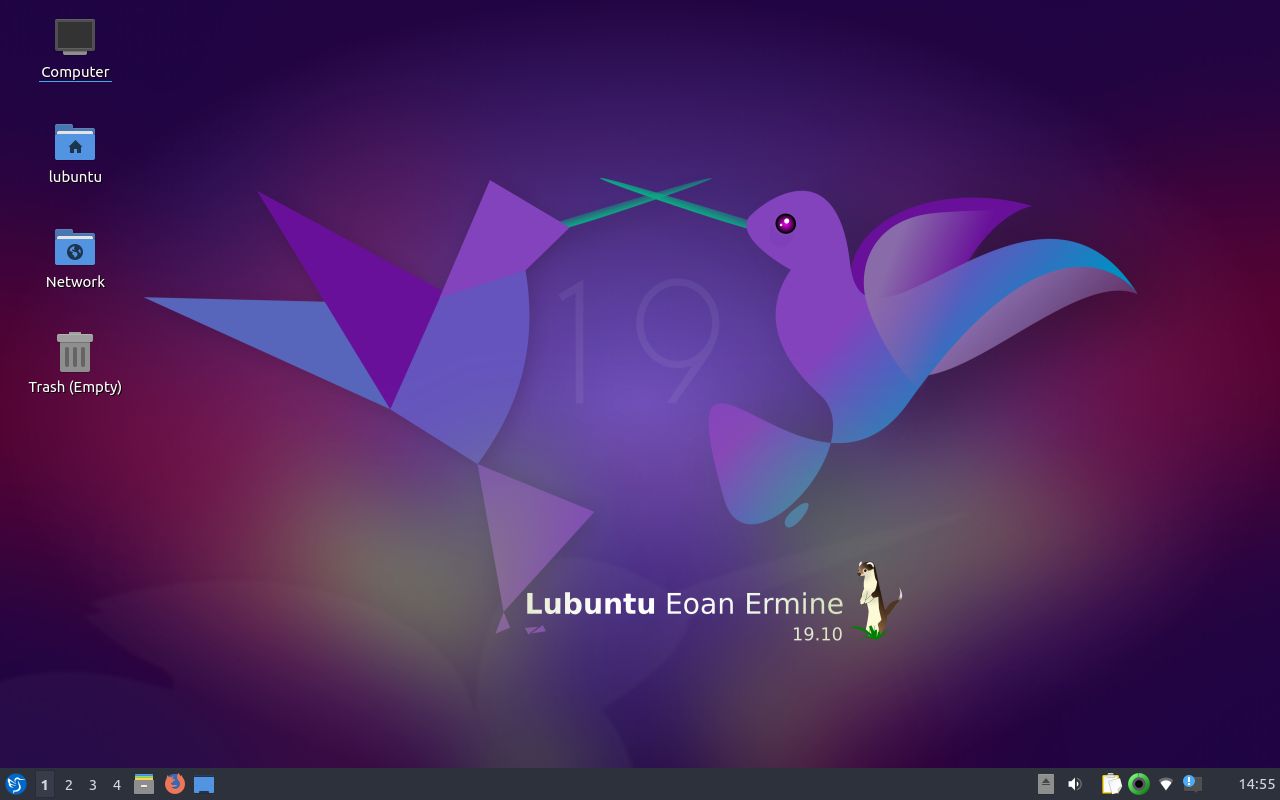 Similar to the other Ubuntu flavors in Eoan series, Lubuntu also provides a support period of 9 months. After this, there won't be any official updates or bug fixes for this release.
The main highlights in Lubuntu 19.10 Eoan Ermine release include the following.
LXQt 0.14.1.
Qt 5.12.4.
Mozilla Firefox 69, which will receive updates from the Ubuntu Security Team throughout the support cycle of the release.
The LibreOffice 6.3.2 suite.
VLC 3.0.8, for viewing media and listening to music.
Featherpad 0.11.1, for notes and code editing.
Discover Software Center 5.16.5, for an easy, graphical way to install and update software.
The powerful and fast email client Trojitá 0.7 to get you to inbox zero in no time.
As different from other Ubuntu flavors, Lubuntu uses the Calamares installer. Version 3.2.15 is included in this release.
Download Lubuntu 19.10 Eoan Ermine
Lubuntu 19.10 Eoan Ermine screenshots
---
---
01 Lubuntu Desktop
02 About LXQt
03 Application Menu
04 PCmanFM-Qt
05 terminal emulator
06 Drop Down Terminal
07 Firefox Browser
08 Busy Desktop
09 Window Switching
10 VLC Media Player
11 LXImage
12 LibreOffice Impress
13 Featherpad
14 2048 Qt implementation
15 Discover
16 Discover - updates
17 Muon Package Manager
18 KCalc
19 LXQt Configuration Center
20 qps
21 Resouce usage with htop
22 Leaving System
23 Shutdown Confirmation
Video Preview


For more videos, subscribe our channel DistroScreens on YouTube.