Ubuntu 22.10 Kinetic Kudu released
---
---
The Canonical has announced the release of Ubuntu 22.10 Kinetic Kudu. Along with regular updates, Ubuntu 22.10 features GNOME 43. GNOME 43 comes with refines the user experience with improved performance and consistency.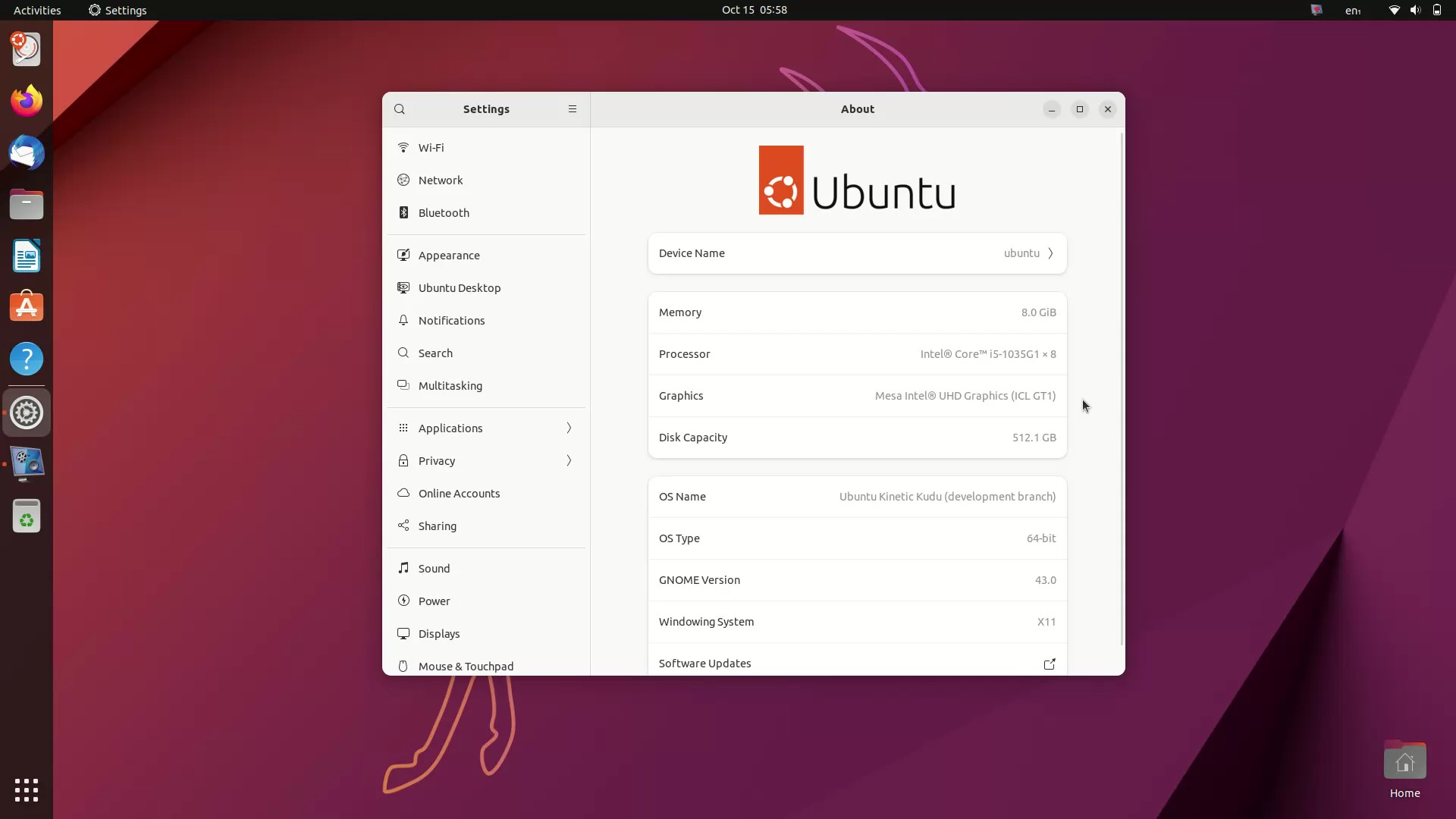 What is new in Ubuntu 22.10 Kinetic Kudu?
Ubuntu 22.10 Kinetic Kudu integrates GNOME 43. It includes GTK4 theming for improved performance and consistency.
Quick settings is a part of GNOME 43 - which helps to access Wi-Fi, VPN, Bluetooth, Night Light, Airplane Mode, and Dark Mode settings from the system menu.
System Settings is responsive and more adaptive now.
There is an Ubuntu Desktop option in the System Settings application which helps to configure different aspects of the desktop.
If multiple windows of the same app are open, it can be spread from the Ubuntu Dock.
File manager is fully adaptive now. The items will get arranged based on the window size.
Pipewire is the default audio system now. It broadens support for audio devices and provides a step up in bluetooth connectivity, delivering improved performance for video conferencing.
Linux Kernel 5.19
Mozilla Firefox 105
Thunderbird 102
LibreOffice 7.4
For further information, read official Ubuntu 22.10 release announcement published on projects website.
Download Ubuntu 22.10
Download Ubuntu 22.10 Kinetic Kudu
Ubuntu 22.10 Kinetic Kudu screenshots
---
---
01 Ubuntu Kinetic Desktop
02 About System
03 Application Menu
04 Nautilus
05 Nautilus Adaptive
06 Terminal
07 Window Switching
08 Firefox
09 Video Player
10 Rhythmbox
11 Image Viewer
12 LibreOffice Writer
13 System Settings
14 System Settings Dark
15 System Settings Adaptive
16 Ubuntu Software
17.0 Ubuntu Software Adaptive
17.1 Resource Usage
17.2 Resource Usage top
18 System Menu
19 Leave options
Video Preview


For more videos, subscribe our channel DistroScreens on YouTube.