Ubuntu Budgie 20.04 LTS release & screenshots
---
---
Ubuntu Budgie 20.04 LTS is a long term supported release from Ubuntu Budgie. Ubuntu Budgie 20.04 with code name Focal Fossa was released on 23rd April 2020 along with Ubuntu and other official community flavours. As an LTS release of Ubuntu flavour, Ubuntu Budgie 20.04 will be supported for next 3 years.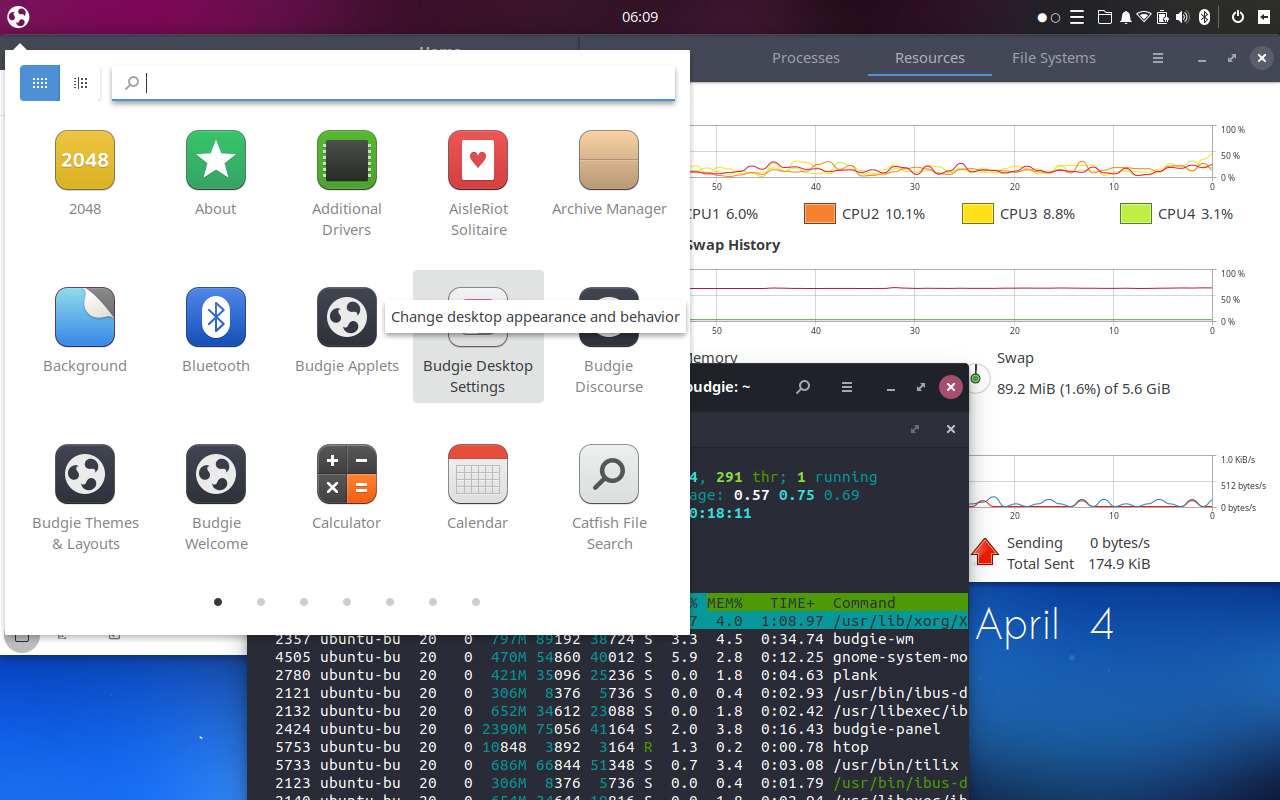 Highlights & Changes
In addition to inherting all the core improvements from Ubuntu 20.04 Foundation, Ubuntu Budgie 20.04 release is coming with following distribution specific enhancements.
Budgie Desktop v10.5.1 on top of GNOME 3.36 stack.
Stylish Menu applet to replace existing application menu. It provides a smoother and faster experience and is comparable with slingshot launcher in the elementary OS.
Uses Celluloid as default media player - It is a successor of GNOME MPV.
4K resolution friendly desktop premises and applets
Includes GNOME Firmware and Draw as default applications.
Better lock screen styling - buttons are now flat and match the lock screen dialog
Removed system tray applet from default installation and added network manager applet.
and more.
For a complete list of changes and highlights read Ubuntu Budgie 20.04 release notes in project's official website.
Ubuntu Budgie 20.04 LTS screenshots
These screenshots are captured from a Ubuntu Budgie daily image released on 4th April 2020. So it may slightly vary from the final release.
---
---
01 Budgie Welcome - First impression in live mode
02 Budgie Welcome - First impression in normal mode
03 Browser Ballot
04 Budgie Welcome - Home
05 Budgie Welcome - About Ubuntu Budgie
06 Budgie Welcome - Theme and layouts
07 Budgie Welcome - Applets
08 Ubuntu Budgie 20.04 Desktop - First Impression
09 About Ubuntu Budgie - GNOME Control Center
10 Application Menu
11 Application Menu - Category View
12 Nemo File Manager
13 Tilix Terminal Emulator
14 Busy Desktop
15 Alt plus tab window switching
16 Firefox Browser
17 Celluloid Video Player
18 Rhythmbox Music Player
19 gThumb Image Viewer
20 LibreOffice Writer
21 GNOME Calendar
22 2048 Puzzle Game
23 GNOME Control Center
24 Background Settings
25 Budgie Settings
26 Idle resource usage - System Monitor
27 Idle resource usage - top
28 Idle resource usage - htop
29 GNOME Software
30 GNOME Software - Category View
31 GNOME Software - System Details
32 Date and Time applet
32 Places Menu applet
33 System Menu applet
34 Shutdown Confirmation
Video Preview