Ubuntu Budgie team member Jacob creates Budgie Applet to manage USB devices
---
---
Today Ubuntu Budgie team has announced the immediate availability of a new budgie applet for managing USB storage devices. This applet is named as DropBy and is a part of budgie-extras applet collection developed by Ubuntu Budgie team.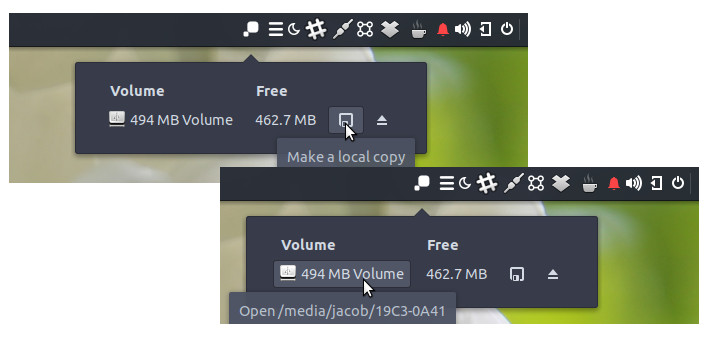 The DropBy applet will pop-up when a USB storage devices are connected to the system. It provides various options to manage connected devices, which includes the ability to mount/unmount devices, copy contents, open devices using default file manager ..etc.
DropBy is expected to find it's first release with a few more polishing activities. Once it's ready, it will be made available through Ubuntu Budgie 17.10 backport repositories. It can also be installed using Budgie Welcome, a multipurpose app created by Ubuntu Budgie team.
Mr. Jacob joined Ubuntu Budgie team, a few months back. Since then, he was working on budgie-extras, a handy collection of budgie applets to serve various purposes. So far, it includes applets like
Window Previews
Hotcorners
Quicknote
Workspace Switcher Overview
Wallpaper Switcher
Workspace Mover
ShowTime
CountDown
Automatic Keyboard Layout Switcher
Screen Rotation Lock
ClockWorks
and now DropBy
Citing from original text shared by Ubuntu Budgie in their facebook page.
Team member Jacob has been busy again - another optional applet you may wish to use called "DropBy". This one automatically pops up whenever a USB device is added. You can mount/unmount, copy the USB device contents and open in Files all from the popup. Nice! Well done Jacob 😁

Will be polishing in the next few days and will release to the 17.10 backports PPA and you can use budgie-welcome to install.