MX-19.2 KDE released; screenshots
---
---
On 16th August 2020, the MX Linux team has announced the release of MX 19.2 KDE Edition. This release includes all the core features of MX distributions, plus a stable and pleasant Plasma desktop experience.
MX-19.2 KDE is the first official release from the MX project that features a KDE/Plasma desktop. It gives more priority for Qt-based applications that make Plasma experience more complete.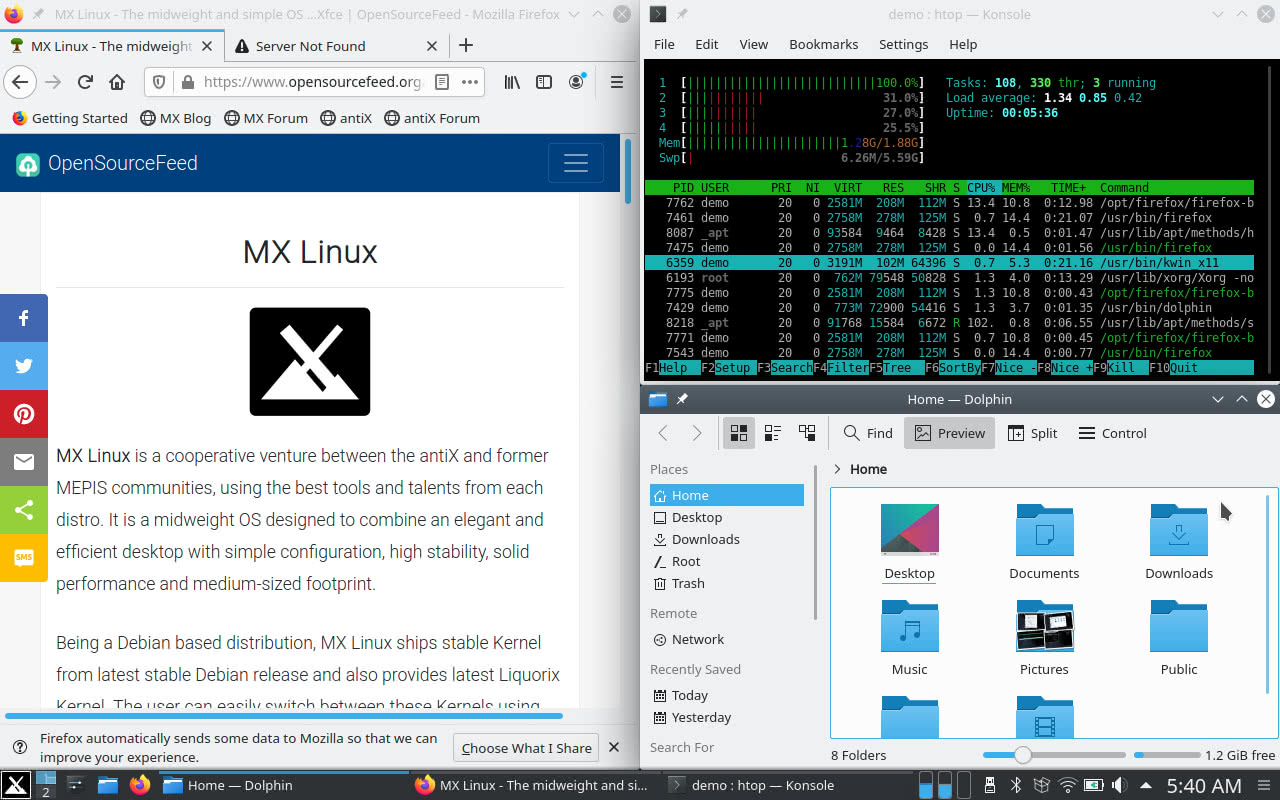 By introducing the Plasma Desktop in MX, the MX team is trying to make the distribution appealing for a wider range of users. Currently, MX officially supports Xfce and Fluxbox ecosystems.
The main highlights of MX-19.2 KDE include the below.
KDE/plasma 5.14.5 (current Debian buster version)
GIMP 2.10.12
MESA 20.0.7 (AHS)
MX AHS firmware package
Debian (AHS) 5.6 kernel
Browser: Firefox 79
Video Player: VLC 3.0.11
Music Manager/Player: Clementine 1.3.1
Email client: Thunderbird 68.11
Office suite: LibreOffice 6.1.5 (plus security fixes) (6.4 available in MX-Packageinstaller->Popular Apps)
For further information on MX-19.2 KDE release, read the official release announcement.
MX 19.2 KDE screenshots
These screenshots are captured on a BETA release of MX Linux 19.2 KDE. There could be slight difference with the final release
---
---
01 MX Welcome
01.1 About MX
02 MX Plasma Desktop
03 Application Menu
04 Dolphin File Manager
05 Konsole Terminal
06 Yakuake Dropdown terminal
07 Busy Desktop
08 Window switching
09 Firefox Browser
10 VLC Media Player
11 digikam
12 Gwenview
13 Clementine Music Player
14 LibreOffice
15 GIMP splash
16 GIMP in action
17 MX-Updater
18 MX-Tools
19 MX-Tweaks
20 MX Software
21 MX Flatpak
22 System Settings
23 Background Selection
24 Resource Usage - KSysGuard
25 Resource Usage - htop
26 Resource Usage - top
27 Calendar Widget
28 Battery and brightness widget
29 Leave Menu
30 Leave Confirmation
Video Preview