Bodhi Linux 7.0: A Leap Forward in User Experience and Performance
---
---
The Bodhi team has announced the long-awaited release of Bodhi Linux 7.0. Built on the Ubuntu 22.04 LTS (Jammy Jellyfish) base, Bodhi 7.0 is a momentous step forward. With a strong commitment to improving user experience, and performance, and adhering to its core values of minimalism and customization, this release marks a significant milestone in the evolution of Bodhi Linux.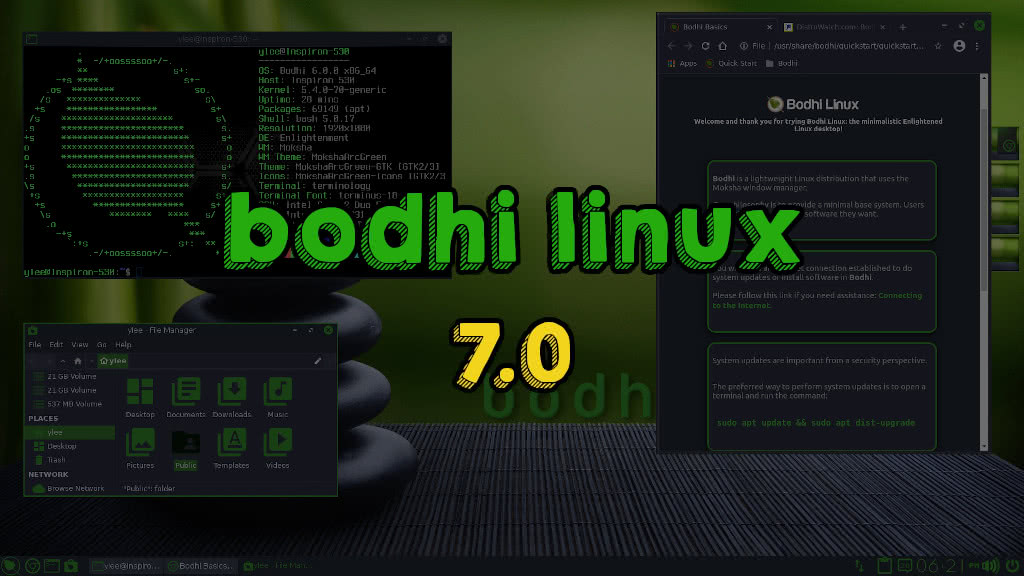 What is new in Bodhi Linux 7.0?
Bodhi Linux 7.0 comes with an array of improvements and updates. Most notable are:
Introduction of a new "s76" release, which features a more advanced Kernel for those seeking cutting-edge performance.
Kernel updates are now enabled by default.
EFL and Terminology are updated to the version in e-git.
Moksha no longer relies on deprecated libraries.
The BL7 login screen boasts an upgraded slick greeter with a password reveal feature (Version 1.8.1), complemented by a new Plymouth theme.
The default theme has been transformed into Moksha Green, showcasing an animated background, refreshed splash screen, and numerous fine-tuning.
Bodhi's Quick Start Guide is now available in multiple languages, inviting collaboration for unsupported languages.
Thunar's archive plugin now comes pre-installed, utilizing the engrampa backend.
A Web-browser-manager, inspired by the Classic Zorin OS Browser Manager, simplifies the installation of popular web browsers.
Moksha introduces a Keybindings viewer for fundamental shortcuts, conveniently accessible from the Menu.
The iBar Module now supports application instances, enhancing user organization.
The Notification module has been entirely restructured, offering support for Notification actions.
For further information on Bodhi Linux 7.0, read the official release announcement.