Exploring Nitrux with DistroTest
---
---
I was longing to explore the Nitrux OS for a long time. But I was not able to explore this distribution because of its special installation procedure. Also, my laptop is not modern enough to explore this distribution on bare metal. Then came DistroTest as a savior.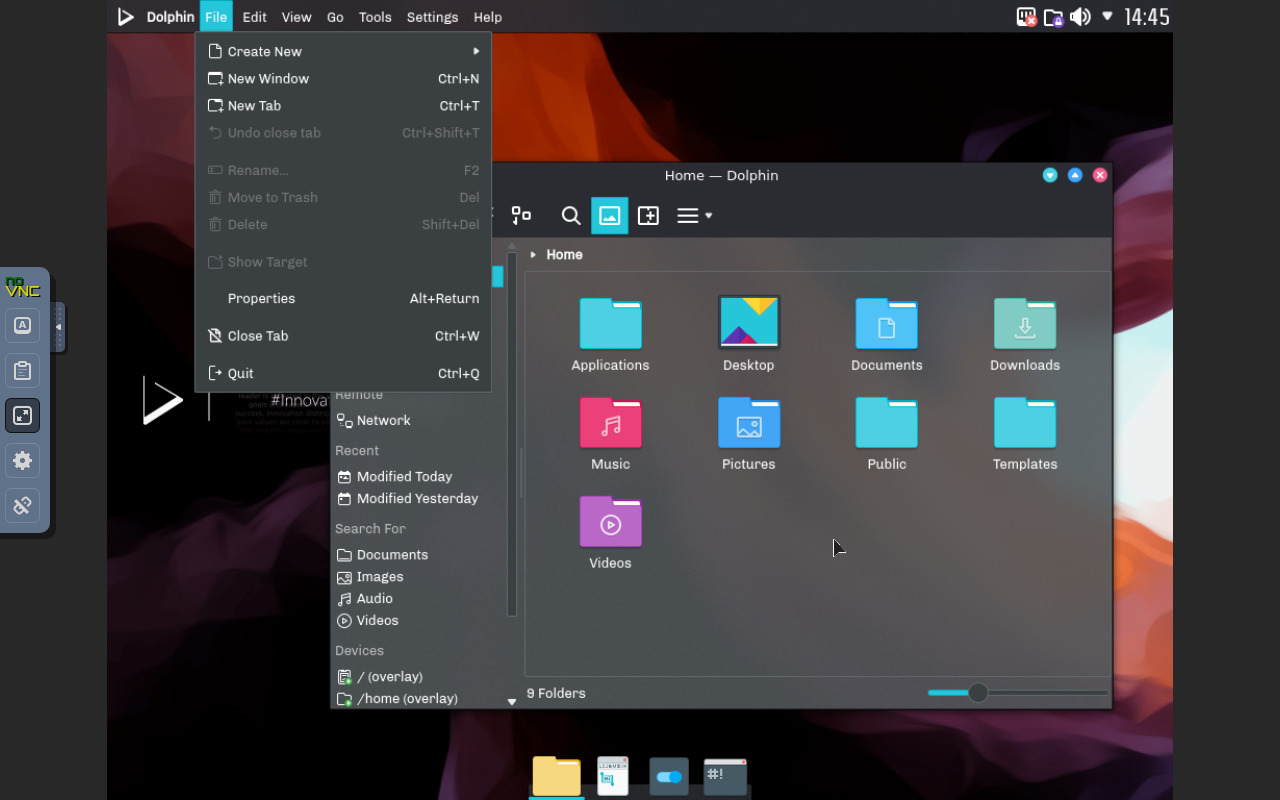 What is DistroTest?
Simply speaking, DistroTest is an online platform for exploring the different operating systems without installing. It allows us to launch an instance of a Virtual Machine on a remote host and to connect to the same using a VNC client.
Currently, there are 249 OS distributions available on DistroTest. If we consider the different versions also, there are a total of 834 versions.
For providing fair access to all the users, DistroTest puts us on a queue, when we request to launch a distribution. After a usual wait time of 3 minutes, it will start an instance in a remote host and launch a web-based VNC client. Alternatively, we can use a native VNC client for viewing the remote host. DistroTest also restricts the total usage time for each distribution to 30 minutes.
How did Nitrux perform on DistroTest?
DistroTest allocates a 2 GB of RAM for Nitrux, which is not adequate for this distribution. So, the performance was poor. Still, I'm happy because finally, I'm able to explore the beautiful implementation of Nitrux Desktop.
The following section showcases some screenshots of Nitrux captured on DistroTest. The quality of screenshots is comparatively poor as it is captured on a remote host.
---
---
01 Nitrux Desktop
02 About Nitrux 1.2.9
04 Index File Manager
05 Station Terminal Emulator
06 Busy Desktop
07 Busy Desktop with alternate layout
08 Window switching
09 Firefox Browser
10 Vvave Music Player
11 LMMS Audio Editor
12 GIMP Image Editor
13 Nota Text Editor
14 Buho - Sticky notes
15 System Settings
16 NX Firewall
17 Enabling tiling WM
18 Tiling window preview
19 Background selection
20 Discover - Featured apps
21 Discover - applications
22 Background Collection
23 GIMP splash
24 GIMP in action
25 Resource usage - qps
26 Resource usage - htop
27 Resource usage - top
28 Calendar widget
29 Shutdown confirmation
00 title-clip
01 Nitrux Desktop
02 Application Menu
03 Index File Manager
04 Index File Manager - List Layout
05 Station terminal emulator
06 Global Menu
07 Busy Desktop
08 Window Switching
09 Firefox Browser
10 Vvave music player
11 Pix Image Viewer
12 LibreOffice Writer
12 System Settings
13 Global theme
14 Background Collection
15 Nota text editor
16 Buha quick notes
17 Discover - featured
18 Discover - updates
19 Discover - category
20 KSysguard - process
21 KSysGuard - overview
22 Calendar Widget
23 Battery and brightness widget
24 shutdown confirmation
01 Nitrux bootscreen
02 Nitrux Welcome App
03 Nitrux Desktop - First impression
04 Application Menu
05 Application Menu with Category grouping
06 Category Folder Open
07 Dolphin File Manager
08 Resource Usage
09 Global Menu
10 System Settings
11 Global Theme Settings
12 Shutdown confirmation