Fedora 37 is available now
---
---
Mr. Matthew Miller - the Fedora Project Leader - has announced the release of Fedora 37. In addition to the existing flavors and spins, Fedora 37 introduces Fedora CoreOS, geared towards container-based workloads, and Fedora Cloud Edition.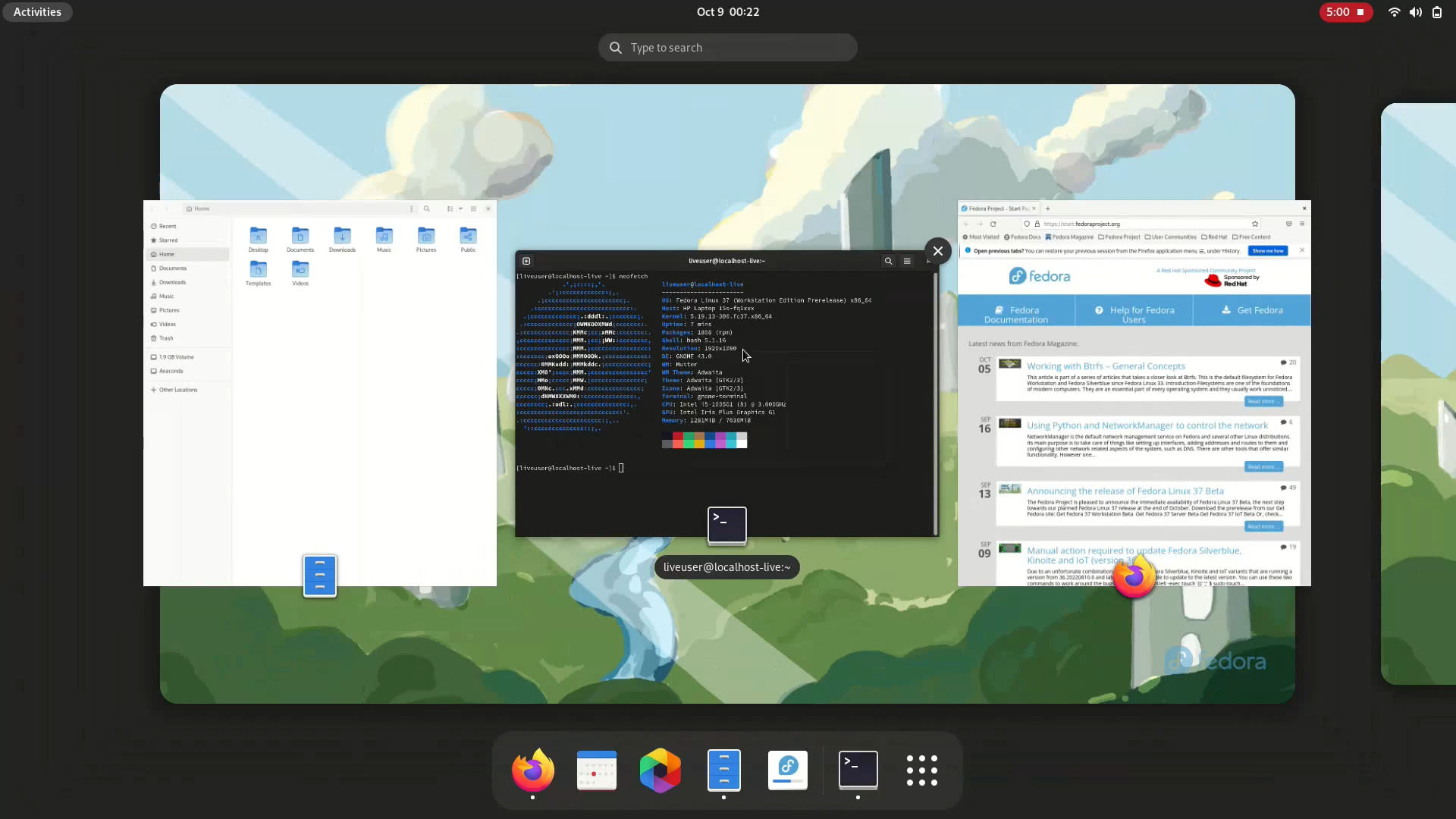 What is new in Fedora 37?
The following section briefly explains the key highlights of the Fedora 37 release.
Fedora 37 Workstation comes with GNOME 43 which is the latest stable release of the projects flagship desktop environment. With this release, more GNOME apps are ported into latest GTK release.
Fedora Server now produces a KVM disk image to make running Server in a virtual machine easier.
The Raspberry Pi 4 is now officially supported in Fedora Linux, including accelerated graphics.
Fedora CoreOS and Fedora Cloud Base have been promoted as Editions.
For further information, you may read the below posts published on Fedora Magazine portal.
Download Fedora 37
You may download Fedora 37 installation images from the projects official download page. Download Fedora 37
Fedora 37 Workstation screenshots
---
---
01 Fedora Welcome
02 Fedora Desktop
03 Application Menu
04 Desktops
05 Nautilus
06 Terminal
07 Window switching
08 Multitasking
09 Firefox
10 Videos
11 Rhythmbox
12 gThumb
13 LibreOffice Writer
14 Settings
15 Wallpapers
16 About Fedora
17 GNOME Software
18 resource monitor
19 resource monitor htop
20 system menu
21 dark mode
22 calendar widget
23 calendar
24 weather
25 shutdown options
Video Preview


For more videos, subscribe our channel DistroScreens on YouTube.