OpenSUSE Tumbleweed Xfce screenshots, pros, and cons
---
---
OpenSUSE Tumbleweed a rolling distribution that offers the latest stable packages in the OpenSUSE ecosystem. It includes several varieties including, desktop operating systems, container images, and virtual machine specific images.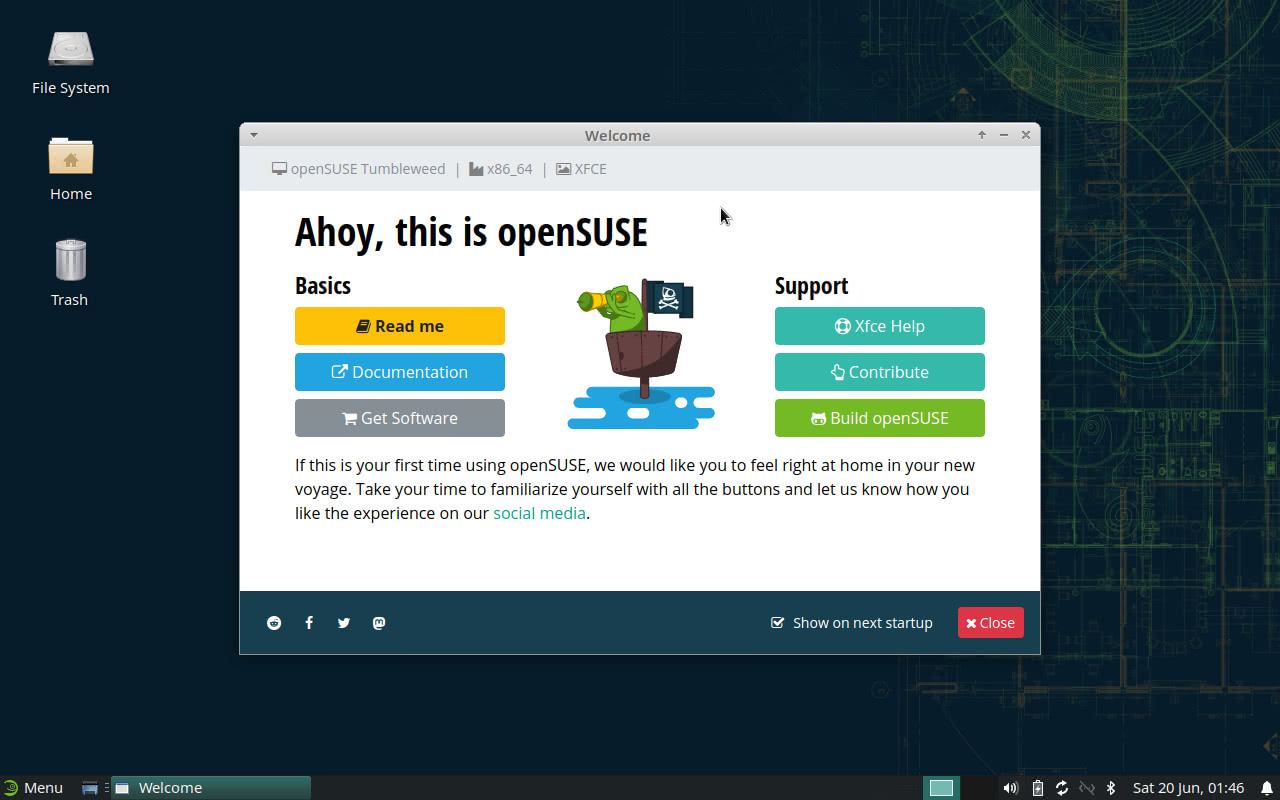 In this review, let us explore the OpenSUSE Tumbleweed Xfce spin, downloaded on 20th June 2020. This flavor of OpenSUSE offers all the core benefits of OpenSUSE. Also, it comes with a professionally configured look and feels. Let's go through it.
Specifications
HP Probook 4230s - 2011
Intel(R) Core(TM) i3-2310M CPU @ 2.10GHz
RAM - 2GiB
Pros
OpenSUSE Xfce Spin Includes the core benefits of OpenSUSE like YaST Control Center for system administration, stability, and latest packages as in Tumbleweed repositories.
OpenSUSE Xfce is having a professional look and feel, with a slightly customized version of Greybird Gtk Theme, Elementary Xfce Icon theme, and wisely chosen fonts with optimum contrast settings. Even though distributions like Xubuntu have similar theme configurations, the font selection, and contrast settings are not the best in those distributions.
The live image comes with a minimum, but all essential applications. So, it does not give a bloated feeling.
Cons
Memory usage is slightly higher compared to Debian based Xfce distributions like MX, Xubuntu, and Linux Mint.
I was not able to play a .mp4 file with the Parole Media Player, included by default. It offers to install additional codecs when I open a .mp4 file, but nothing happens if I ask to install the same. This problem may be a Tumbleweed issue or a live image specific issue. I was able to play .mp3 file with the default music player included.
OpenSUSE Tumbleweed Xfce screenshots
---
---
01 OpenSUE Welcome
02 OpenSUSE Xfce Desktop
03 Whisker Menu
04 Application Finder
05 Thunar File Manager
06 Xfce Terminal
07 Busy Desktop
08 Window Switching
09 Firefox Browser
10 Parole Media Player
11 Pragha Music Player
12 Ristretto Image Viewer
13 Shotwell Image Manager
14 Mousepad Text Editor
15 Settings Manager
16 YaST tools in menu
17 YaST - Control Center
18 Software Manager
19 Context Menu
20 Background Selection
21 About Xfce
22 Default theme
23 Default icon theme
24 Default fonts
25 Default Window Manager theme
26 Resource usage - task manager
27 Resource usage - top
28 Resource usage - htop
29 Shutdown confirmation
Video Preview


For more videos, subscribe our channel DistroScreens on YouTube.