Ubuntu Classic Series: Ubuntu 4.10 - Warty Warthog
---
---
Ubuntu 4.10 was Canonical's first release of Ubuntu. Ubuntu 4.10 was released on 20 October 2004 and came with the code name Warty Warthog.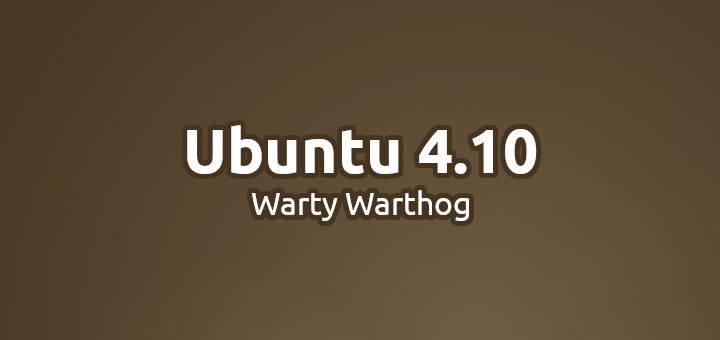 Ubuntu 4.10 was a revolutionary footstep that changed the direction of GNU/Linux distribution. It provided a user-friendly way to install GNU/Linux distribution, along with required applications. Also, Ubuntu took the utmost care to polish the user experience instead of shipping a vanilla desktop. Ubuntu 4.10 was available to download for free. For people with limited bandwidth, Canonical provided an option to get an Ubuntu CD for free.
Ubuntu 4.10 came with the plan for a new release of Ubuntu every six months. Also, each release will get support for the next 18 months.
Following were the noteworthy highlight in Ubuntu 4.10 Warty Warthog.
GNOME 2.8 - Ubuntu was the first distribution to ship Gnome 2.8
Firefox 0.9 (with security patches)
First class productivity software
Evolution 2.0 and OpenOffice.org 1.1.2
XFree86 4.3 with improved hardware support
About Ubuntu Classic Series
Ubuntu Classic Series is a journey through old Ubuntu releases. This will help to recall, how Ubuntu was looking in those days, and how much we have evolved. It also briefly explains the features in each release, with screenshots, and preview video.
Ubuntu 4.10 screenshots
---
---
01 Live CD boot options
02 Boot screen
03 Loading Desktop
04 Ubuntu GNOME 2.x Desktop - First impression
05 Application Menu
06 Nautilus File Manager
07 GNOME Terminal
08 System Configuration Menu
09 OpenOffice Writer 1.12
10 Mozilla Firefox Web browser
11 Rhythmbox Music Player
12 Totem Movie Player
13 Gimp Image Editor
14 Logout confirmation
Video Preview


For more videos, subscribe our channel DistroScreens on YouTube.